Getting Around: Mega Menu
With version 3.0 of Promomash, we introduced a new menu style. Most of you learned to "look left" to see where you wanted to click in the old version 2.0 platform. Our new "Mega Menu" across the top is the best way for us to contain all the pages we currently have, plus make room for additional features as they arrive over the next few months.

The groupings in the new menu are super logical and reflect the way you do your work. Let's explore each section: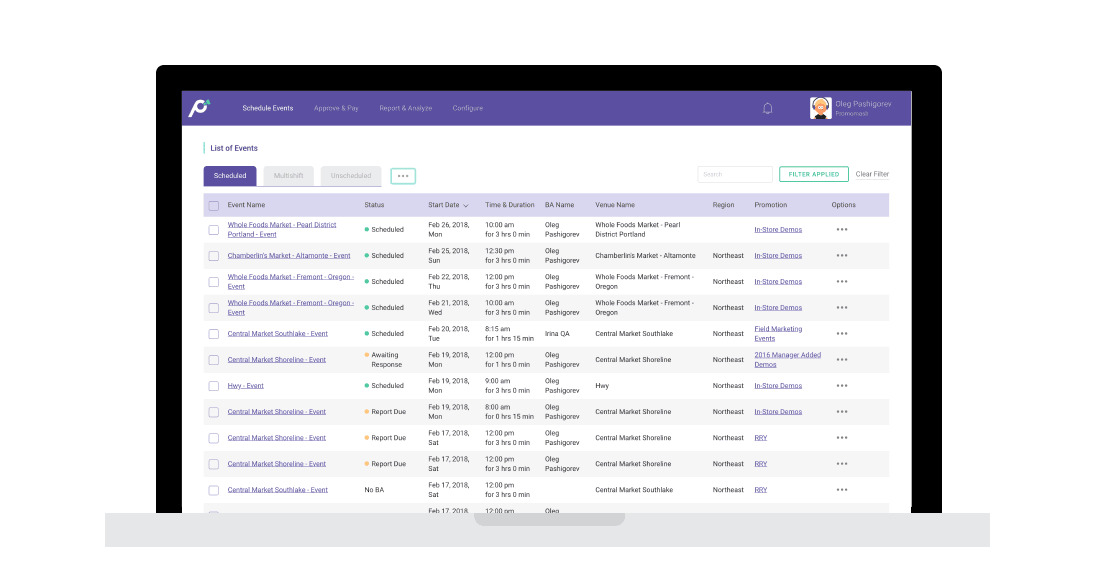 Scheduling Events
View Events
Where you can easily oversee your entire demo program, using different types of views and flexible filtering options to narrow your focus.
Schedule
Single Event
The place where you schedule individual events, in a variety of ways. You can schedule by date or date range, be assisted with a calendar, use a map to search for great brand ambassadors around specific stores or stores around great brand ambassadors. You can even schedule events with multiple shifts and staff.
Schedule
Multiple Events
The place where you can schedule multiple events at one time. You can schedule with either fixed dates or flexible date range windows, allowing you great flexibility to manage your program to best match your team

Approve &
Pay
Approve Submitted Events
This is where events go once your ambassadors have submitted them, to await your review and approval. Here you have a chance to review the compensation, photos, report Q&As, expenses, etc.
Accounting
When you have approved events, they are transferred here to be moved through your accounting process and archived for future reference.
Report &
Analyze
Analysis

Here you will be able to find sales and numerical results along with raw data for your company's events management.
Reporting
Here you will find completed reports and your photo gallery.
Configure


General
This is where you can manage company settings, regions, report inventory and integrations.
Expenses
In Expenses, you can manage general settings, expense categories, payment methods, mileage calculations and time presets.
Database
Here you can manage multiple aspects of your database such as promotions, Brand Ambassadors, Venues, Products, Training Materials, Required Documents and reporting Templates.
Custom Fields
In the Customer Fields section, you can manage information for events, venues, products and contacts.
Rights & Roles
Here you can manage your Brand Managers, Brand Ambassadors and Venue information.
---
---